Most pornography in the web is hardcore, with little story line to them. As HD screens take over, there are countless companies making HD porn, but still portrayed in the 'hardcore' side of porn. Now, J is here to recommend something. It's something he watched, and couldn't believe how helpless he is to do something like that. Below is the cover of the short movie – it's good enough to be a movie for me.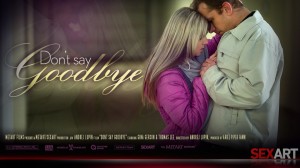 Click on the picture to see the bigger size. And for the video, here is the link to a trailer they made.
http://www.sexart.com/model/gina-gerson-and-thomas-lee/movie/20131208/DON_T_SAY_GOODBYE/
Have a look at the trailer. I bet it will change the way you look at porn, no matter if you are male or female. This is how a woman's body should be appreciated, not just a sex tool. In case you were wondering why the trailer is so.. un-HD, it's a scaled down resolution for playback on their site.
Once you get your hands on the full 570mb, 720p movie, it will really really blow you away. For now, my favourite companies that makes such films are SexArt, X-Art and WowPorn. They are the change to the whole porn industry.
Have fun browsing their websites and happy holidays! For J doesn't have that kind of life to enjoy holidays. He worked too hard.