Every week (or so), I will strive to present one of the best/ most interesting/ latest JAV clips to aid the healthy, preferably-weekly release  of one's sexual tension. After years of 'research', as raw and uncensored as we prefer porn to be, the most captivating ones might just be covered in the occasional mosaics.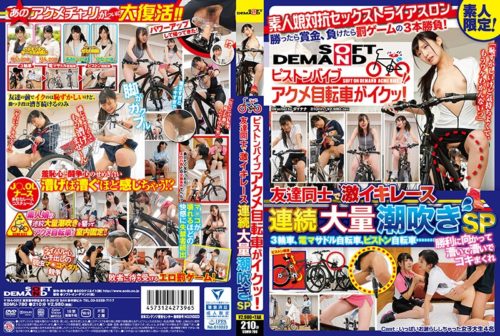 SDMU-780
Strangely, I find the need to highlight this particular AV for its.. effectiveness. The genre of dildo-on-a-bike-seat isn't exactly mainstream or even widely sought after, but this time, I think they managed to do one that is mildly stimulating.
At first, 'unsuspecting' girls will enter the cycling room and be somewhat sceptical about riding a bike with a Hitachi Magic Wand attached to the seat. Natural-sounding moans and responsive body-twitching might be a little loud, but as mentioned – effective.
After a change of clothes, the girls return to the room to unveil the seat that has a dildo engineered into it, that will move as the pedals are pedalled. The rest is pretty straightforward. The only unexpected scene was how the men intruded such a jovial, playful clip to have sex with the girls.
Well, how would porn be porn without some skin-on-skin action right?
Rating: Strangely interesting. Noisy moans but grows on you. Worthy.