'Hey! Be gentle! My parents are just outside!'
Bob snapped Karlene's bra before she even got into her room, hurrying her to the bed where he playfully shoved her onto it. Falling on her hands, he yanked the centre part of her shorts to aside and slid his hand along her pussy. That plump mould she shaved daily, was such a beauty to behold and he did not spend too much time rubbing her clit either.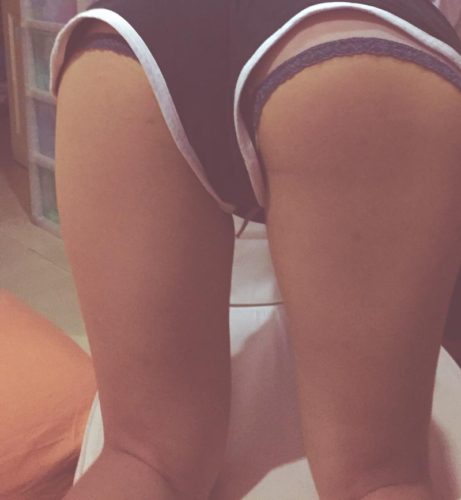 As his fingers wriggled their way into her vagina, her ass shook uncontrollably to his energetic exploration. Karlene was getting wet faster than she expected, dying to get more of him inside her. Like a faithful dog, she stayed on her fours while he sat behind her, giving her pussy a lick that sent her shivering. He had to pull his fingers out to get a good angle and switched to massage her clit, going fast and slow at the wrong timing.
'Baby! Keeping rubbing that spot! I'm cumming!'
He suddenly gave up and acted silly, decreasing speed despite her pleas to go faster. The disappointed girlfriend lost her rhythm after a while but couldn't stop moaning, since he was eating her out and teasing her. Five minutes past and he was long done with his 'dessert', just focused on fingering her to edge her as many times as he could.
Finally, she had enough and crawled a step forward, dropping her ass backwards on her feet.
'Are you going to let me cum? If not I'm going to do it myself.'
'I am I am. Just relax k?'
'You better give it to me soon.'
He moved to the centre of the bed behind her and guided her chest forward, returning her to the doggystyle so he could fuck that tight pussy. His dick, dry and aching from the hard on, ran under her a few times to get it lubed up. The moment he was satisfied with how wet he was, he poked the first bit into her vagina.
Moving so ever slowly, he had to hold her waist to stop her from sitting on his cock. An inch went in after a few seconds, and another followed. It took him almost a full minute to penetrate that crazy girl about to lose her mind soon.
Not only he moved like a tortise, he did not thrust that yearning pussy for another minute. That girl was getting frustrated with his foreplay but couldn't ride him due to his strong hands on her waist. After hearing her beg to be fucked, he sent his shaft in and out at an increasing velocity. It took lesser time for him to reach his full speed pounding that desperate girlfriend, plunging balls-deep to hear her moan in pleasure.
'You are so fucking tight tonight!'
'All thanks to you.. '
There was nothing sexier than a sex-starved lady who came under a minute after he started his thrusts. She only got wetter and Bob began to lose control of his body. His hips were banging her so hard it hurt but she was enjoying all of his pain. The perky ass sticking her pussy out so far was receiving all of his love for her.
'I think I'm going to faint this time!'
Karlene cried out as he went really fast, about to unload into that tight cunt of hers. His fingers dug deeper into her waist as his cock hardened to rock-like, dragging her innards where all her nerves lined.
'Are you still on the pill?'
'Uh huh!'
He slammed his hips on her ass and felt the first wave pour into her hole, leaving a trail as he pulled out to push his cum deeper along with more deposit. After the third stroke, his face collapsed onto her back as she formed a suction within to keep him in, trembling stronger and stronger as the orgasm knocked the breath out of her.
His pitiful dick was just puking continuously until he rolled off her back, landing on his side right next to her. Karlene was still shaking from the aftermath and couldn't change to any other positions, staying on her knees till she was better.
Lying on the bed face to face, Karlene's afterglow was so pretty that Bob couldn't stop kissing her. One of them weren't meant to spend the night there and he had to go.
'I'll leave on my own. You just rest.'
He zipped up his sweater over his collared shirt and made his way out of her room, body still warm from the intense sex he had. Her parents bade him goodbye with much enthusiasm. Well, they should have guessed that he just made their daughter really happy and tired right? ;)
Photos published with permission, courtesy of BobB.