Dear readers, please take note. This is a new method of fraud/ scam that has appeared on the Instagram app, a 'trusted' social media platform which we might have too much faith in.
Days ago, while scrolling through my Instagram feed, I came across a sponsored/ paid advertisement that looked like this;
but selling a 3D printer named 'ToyBox'. (I didn't take a screenshot of the original ad as I didn't think I would be scammed)
At first, I didn't think much of the heavily discounted price as these things can go for a low price when companies close, or want to clear old stocks in preparation for the next model/ version. For due diligence, I went to the official maker's website to find out more about the 'ToyBox' I am purchasing, especially looking out for the plastic spool dimensions, size, power requirements, to make sure that this is actually a sustainable purchase.
After seeing that the Toybox should work fine, I went back to Innovstylish and paid, a total of US$39.99. Confidently, I returned to the maker's website to learn about all the ways I could use it, only to see this warning sign at the top. (It didn't show up when I browsed their website earlier.)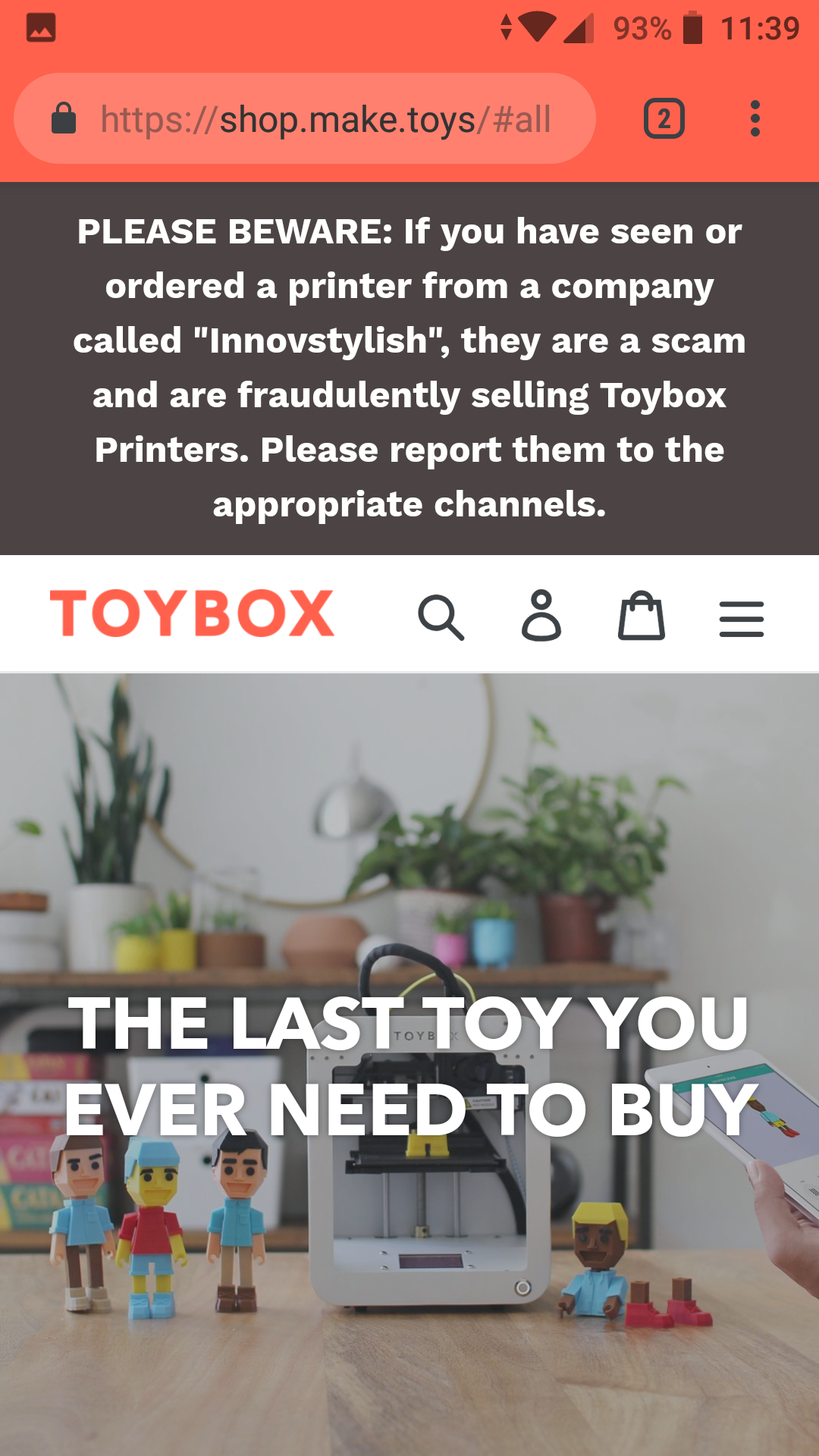 It was about then, I knew I was fucked scammed. At once, I went back to Innovstylish's website, looked for any kind of contact for assistance, and was not surprised to find that all the email links pointed to a single, '@gmail.com' account. Attempts to report this issue to Instagram were also futile, as they required me to report that particular post, which honestly, I don't even know if I am going to see the advertisement again. I have exhausted all means to reach them (Instagram) as all of their helplines were bully/ hate-post specific.  There is simply nowhere I can find, to manually type a report regarding the scam I just got duped into.
In the end, I can only make this issue known through here, for those who thought that Instagram would thoroughly vet those who advertise with them.
In short, do NOT buy anything from Instagram!