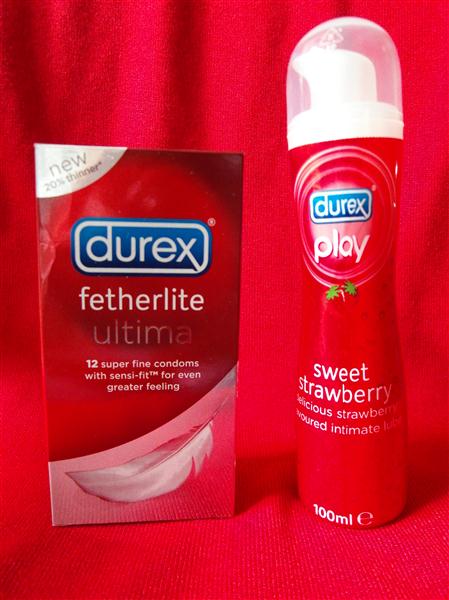 Durex Fetherlite Ultima (S$11.96) – With all those episodes in my stories, would you think protection is really absent? Out of so many brands I've tried, this is the brand, and type I would recommend. Away with those extra thick, extra lube, extra bumps and dots. Skin-close is the way to do it. Firstly, a couple's relationship should be strong enough to withstand 3rd parties, love history, monetary issues, distances, family pressure and etc. Yet, that single moment of intimacy is divided by rubber. Sure, family planning huh? Then, the next thing to focus on is getting as physically close as possible to her.
So, Fetherlite Ultima. It's the closest you can get. Thin enough to stick so close to your (penile) skin, that you'll forget it's there. One thing though, rubber is always smoother than skin. So, live with slight loss of grooves and bumps from your RAW penis. Family planning remember? Safety first. I like this model because of the feel. It doesn't affect the whole act much, and you can release safely inside. The tightness is not to a point semen will get pushed back out (unless you are XXL in size, you'll need expert level contraceptions).
Durex Play Strawberry (S$8.48) – Woohoo! Sometimes, it's not the issue about your skills. It could well be the female body that just doesn't produce enough. So, lubricant to help. I've tried the tingling one, and this. Before this, I tried the 'standard issue' KY Jelly by Johnsons & Johnsons and the Tingling Durex one, which was a no-no for me. The minty effect was too much to take, to a point I was disabled and shrunk to an unbelievable size. It's more of dipping your cock in Colgate instead of eating Eclipse and receiving oral.
Next, KY Jelly. Great product, had totally no problem with it. Except the drying part. Once, I missed and wasted a few drops on the floor. Mum came in and asked what is the sticky substance, I said.. 'water'. It took a long long time to dry out, therefore a great juice-replacement. Take care when using it on bed. The 'wet looking patch' does not come off easily.
The strawberry one was much smoother, like.. less water, more slippery. Please note that it's not really OILY, I'm just stating a description. Like those use in JAV, it takes a while to dry out too, so it's a 5 out of 5 for long battles. The reason I recommended this was for the strawberry flavour. It still tasted a little weird, and sweet! on my taste buds, but we know we're not supposed to drink this. I loved how the scent fill up the room and gives the little high class effect while procreating.
For masturbation wise, please please do not let water mix with this as it will lose it's lubricating effect. Do it before you shower, and be generous with it. It would prepare your rod in case you get a random hot looking girl, she would smell the after scent of strawberry too! Apart from DIY, I would recommend this for use with toys as well.
Most importantly, hygiene comes first. Try them, enjoy making love.