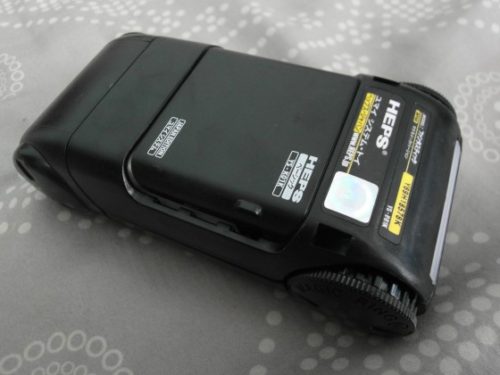 At first glance (if I hadn't bought this myself), I wouldn't know what to make out of this. Packed in the form of a thick DVD case, I was pleasantly surprised to see Gundam-parts type of plastic mesh holding the toy safely in the centre. I broke that futuristic toy out and found myself gloating at 'her' discrete appearance.
Shaped like the car from 'i, Robot', two circular dials at one end (two sides) control the pressure which she would go down on you. On the other end, a rounded cover hide the intricately-designed lips that looked everything human except for that unnatural, light-beige colour.
I then pried her wider apart to spot a tongue, a little too stiff to be realistic, but that bumpy, ribbed texture above her upper 'jaw' did remind me of some textbook illustrations. For the next the next few minutes, I experimented on the two moveable 'upper' and 'lower' panels on the exterior case.
So those two panels, gave me a permutation of four. I have the option to; put more pressure at the front of her mouth, at the back, and two illogical, front-back layouts I couldn't make sense of. Either way, I know I am free to explore more once I get into the bath.
For once, I was eager to take a shower, where she would be broken into for the first time. I gave her a quick rinse, poured some soap into her mouth, spread those foam around with my fingers, and popped her over 'who' I bought her for.
As much as I would like to say 'perfect' on the first try, there were variations I could fiddle with. I used those dials to tone down her suction, and switched those upper-lower panels for more stimulation near her opening.
That combi totally worked out for me and I came to the interestingly-different kind of slurping noise caused by the vacuum. Lastly, tired me twisted the two dials off and ran tap water into her lips to gush my bodily fluids through the two smaller holes.
While some girls dislike their men using sex toys (as if they weren't good or pleasing them enough), I would like to think of it as 'fixing our own urges'. I had initially purchased this because my ex didn't like giving blowjobs, so I got this to get that aspect fulfilled.
Like all new(er) reviews, here are the PROs and CONs.
PROs: Made of damn high quality material. Silicon is durable, magnets (to hold mouth in place) is strong. Smooth edges on plastic, no signs of bumpy ridges where pieces connect. Every nook and cranny is exposed to fresh air when all covers are open.
CONs: Brief hours of susceptibility when air-drying product. Exposed fair complexion might attract unwanted attention. To prepare product for long periods of storage, a troublesome process to coat silicon 'flesh' in baby powder is highly recommended (like any silicon product).
Will I buy it again? Nope.
Will I use it again? Sooner than you think!