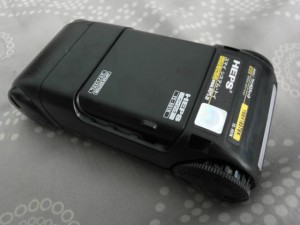 Looking too high-tech to be a sex toy!
I must say this entry is a bit late, but better than never right? I've went down to U4ria at Peninsular Plaza for the second time today and got myself a toy. It's not that I needed this desperately, but it is to take the stress of someone who prefers not to include the use of any mouths for foreplay.
After reading countless reviews and price checks, the safest way to get a toy would be to go down and have a look and feel before getting one. And that was what I did. I am writing this with great pleasure as this particular toy really does its job and shows me a new world without requiring help from anyone.
HEPS Fantastic Japan Edition (Price available on their website) – This high-tech looking toy is actually a masturbator. To be exact, a replacement for oral sex that men loves to get no matter where or when the need arises. You guys should have seen the box, it is so professional looking that no one will suspect what is in it. Imagine a thick DVD cover with this toy in it, with care and usage instructions. Never had I felt money so well spent, especially on a sex toy.
The tongue, lips, even the mouth part is similar to a real person. From the point you put it through the lips, the tongue will 'accidentally' tickle the underside of your penis, and then flicking back to its original position like how a girl would. Once you're in, you can then twist the side caps on the device to get the suction you need. Yes, it slurps while maintaining suction. I also like to feel some pressure of the teeth against the lips, and with the removable.. squeeze cover I call it, you can either create the teeth effect (pressing against the silicon, not directly on your sensitive cock) or a tight throat that contracts whenever you send your dick down all the way.
Now, durability. This special material is unlike conventional silicon toys. Once I have filled it up or emptied myself into it, I simply remove the side caps and flush water into the mouth, rinsing it of any.. biological beings. The holes at the side (that controls the suction) will let the water out and there, cleaning is done. I store it by placing sideways, and keeping the covers off till it's dried.
But I must say before hand, it's never going to dry. Cause I find myself addicted to it before it dries and so, the caps or more or less permanently gone. But if you are not that driven like me, drying does take some time, a full 24 hours to be exact. I've left it for a few days untouched before and that impressive material (I have no idea what), does not break down even when wet constantly, but please don't test the limits by soaking it in water.
For most part, this is a very good invention and provides a lot of freedom to get the feel you like. From the pressure on specific areas of your manhood, to the suction, it's great to a point I have no words to describe. If you are longer than 8 inches, you will be slightly disappointed. Cause you know, you're too long ========)
Writing this makes me tempted to use it again, argh.. Take good care of it like how you would treat your girl, it will last. Next, I should try putting lipsticks on it. Hehe. I'll give it a 'must-have' if you are a blowjob lover without someone who can give it anytime you want, which is like all the time, right guys?