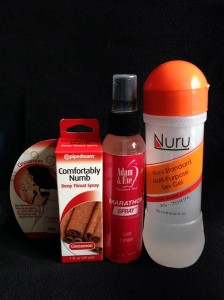 Awesome photo taken by J once again!
Just about a few months ago, I was randomly surfing online sex shops and stumbled upon U4ria.com.sg. A few of the items got my attention and so I went down to one of their shops at Peninsular Plaza. First thing on my mind was the 'Comfortably Numb Deep Throat Spray', the rest of the items were introduced by a friendly staff named Rosco, which was so helpful in a monetary sense that he checked for all the best price for every item I asked. I would definitely go back for products that is for more of the medical use, for both safety and reliability.
Comfortably Numb Deep Throat Spray (Price available on their website) –  This awesome solution comes in three flavours – cinnamon, chocolate mint, and spearmint. I had intended to get the chocolate mint since I know that it would be the most preferred taste for her. But it was out of stock that day, so cinnamon was my second choice. The spray worked well by numbing the gag reflexes that looked so agonizing and painful for girls going down on you. The desensitizing effect will take that choke away after a minute or so after spraying. That said, I've tried it myself by sticking my finger down my throat after it was applied. There was no choking to my expectations, but the mental barrier to get my finger out was there. It's a must-buy for men who wants their girls to give them head with less inhibition.
Adam&Eve Marathon Spray (Price available on their website) – Without saying too much, this bottle had improved my sex life tremendously. Getting MY pleasure out of sex had been easy, but giving HER pleasure was one of my weaker points. As a careful man, I have always used a condom every time we get on it, so this spray only made our sex better. Like a marathon, my timing improved with an justifiable drop in sensitivity. I am not talking about total numbness that you won't notice if someone cut your penis off. Here, let me explain. I would usually give a spray or two at the head of my penis before we start, then use the condom I have prepared to rub the solution over the rest of my shaft. The condom rolled right over after I had covered enough skin with it. My foreplay would then continue for another two minutes, while waiting for the effect to kick in.
A tap or two at my dick, will show me if it was properly numbed. The tip and the sensitive ring below my penis were well-numbed. But the rest of my shaft could still make out 'pleasure'. As the deed was carried out, I still felt all the good things, with delayed ejaculation. More positions, less disappointment. Rosco did highlight to me though, that if you are to have sex without protection, do remember to give your manhood a rinse to remove the solution before penetration.. if not, she would have delayed orgasms too (which is bad!).
Nuru Gel Normal (Price available on their website) – What more could I say? In times of need, without my girl around, this would be my partner. And take note, I didn't even claim my silicon masturbation aid to be my partner, cause this liquid is the one that really made me feel sexy. After shower, while we are still wet, I poured a palm sized of Nuru over our bodies and naturally, the gel produced the sticky strains that was so slippery and fun. It made us both feel so sexy in the shower that I would impatiently slip my dick between her legs, beneath her pussy and just thrust to my heart's content.
The whole shower became much more than just getting cleaned. Apart of just being a slippery liquid, it is also certified to be clean enough to use as sex lubricant, massage gel, whatever you can imagine, but please do not try to eat it. Usually seen on Japanese Adult Videos (JAVs), this gel has really lived up to it's reputation and definitely not hurt to get one. A waterproof sheet (like PVC or Latex) would bring the fun to the bedroom, but if you're like me, without the budget, this bottle of Nuru Gel is not a 'must-have'.