I've decided to meet Xin Xin, a friend I met online via Skype. We've chatted a few times on our cellphones and also webcammed with each other. It wasn't anything scary since I knew nothing could possibly go wrong.
We met at Chinatown MRT station before going for a movie. She is studying accountancy and English in Singapore. Staying in a dormitary, a few of her friends were also stayed with her.
Having no cinemas around Chinatown, there was only one that I could think of, Princess Cinema. One of the last few theatres to screen ONLY R21 films. Having no idea what she's going to watch, she just followed along and it wasn't until halfway into the show before she grabbed my arm and turning her flushed face in my direction, illuminated by the screen light.
We got out before the show ended and made our way to her place. She was so close to running while still feeling horny. She was a girl that looked nothing like she's from China. Long ash brown hair, nicely manicured nails and no overdone makeup.
Once she checked that the doors were securely locked, she started taking her cardigen off and shirt. Peeling pieces of clothes off, I couldn't hide the hard on I was having. Stripping me of my clothes, she sat me down on the bed while she knelt before me. A grin she gave and took my whole dick into her mouth.
Like a hungry wolf, she sucked my dick deep and hard. With her other hand, she was fingering her own pussy. Brushing her teeth with my stick, I couldn't hold the toothpaste in any longer. She could feel my shaft hardening an balls getting the ammo ready.
She placed her lips around the little red head and sucked as she could while using her other hand to stroke me. Within seconds, all my cock muscles were pushing every drop of cum into her mouth. In perfect synchronization, she opened her mouth to show me what I gave her, and swallowed it in one mouthful.
Standing on her feet, she pulled her jeans together with her lacy pink panties, revealing a nicely shaved clit. Climbing on top of my lap, she hugged me tight and sat down real slowly. As her wet pussy meet my hot rod, juices were flowing out of her even faster, turning my dick into a 'honey' stick.
Moaning and holding on with her life, I stood up and carried her by her waist while I lifted her up and down. Every slip of her hands made me go deeper into her. After a while, I turned around and threw her on the bed. Continuing with the pumping, I made sure my dick never came out of her.
In a sudden, her pussy tightened and wrapped around my blood-filled penis. Uncontrollably, my soldiers filled her pussy, even forcing themselves out as I overloaded her, lasting a good 3 minutes of cumming, I fell onto her while still inside.
In an exhausted state, she just spread her legs opened while I fingered her to get some semen out to take a photo. She didn't quite notice my camera sitting at the desk in video recording mode.
Viewing pleasure later. =)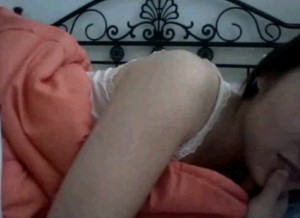 Screenshot while I was web-camming with her, early in the morning, with her in her nightgown.